I am horrible about buying beautiful paper and then not using it because I don't want to "cover up" the pretty part! I am also guilty of having paper I am "saving" for just the right picture! But, last night, in the process of creating a page for a contest, I used just that. A beautiful pair of pattern papers that I had been saving for just the right thing.
So, I challenge you to get your pictures off your camera and onto photo paper. Dig through that "on hold" stack where you hide all those papers waiting for perfection and get to creating!
Here is my creation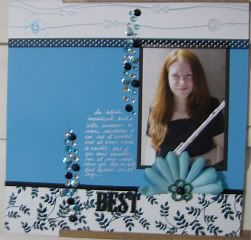 Here's another that includes a few pics from the recent snow in Dallas... who knew we'd have snow on day 2 of Spring! That never happens here, as in it has been 40 years, so I have never seen snow this late in the season.