I am quite happy today,
CropStop
(my fav!) has stocked up on glitter and embossing powders by
Sprinkle & Sparkle
! (If you have visited an Hierloom Rubber Stamp & Scrpbooking show you may have seen them there! I used their stuff at a make n take night in Grapevine, TX in Jan. '10 and LOVED it so much I stocked up back then!)
Check out what I did with an acrylic butterfly that I hated the color on...
The butterfly was originally a faded blue and yellow one with a brown body... can we say bland.. and wanted to use it on this multi-pink and green butterfly print card. So I pulled out my Scotch Quick Dry Adhesive (my fave!) and outlined and filled in the blue section with a thin layer of the adhesive. I poured the
Burgandy Glitter
on, tapped off the excess and let dry. I added
Diamond Stickles
to the yellow sections and rhinestones to the body. I bent the wings up and glue dotted just the body on.
This one is brand new... never seen before... glitter-rama! I will be doing a tut on HOW soon, but wanted to show you another look using the fab glitter while I was posting about it!!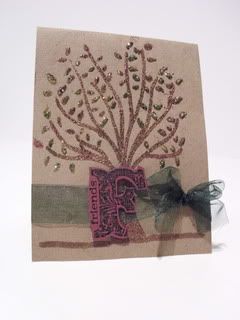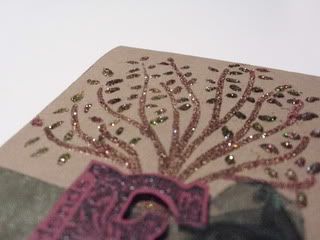 I randomly sprinkled green, gold and burgandy glitter over leaves that were coated in the Scotch Quick Dry Adhesive. The
tree
itself is copper embossing powder, the sentiment is from Vintage Vogue by SU! in green embossing powder.
Don't forget to stop by the
CropStop forum
and get registerd for the Fall Frolic! Challenges every day, games, prizes and even a few RAKs from the DT on their own blogs (HINT! HINT!)