Hi, my name is Lisa and I am a Sticklethickerflowerholic. Yes, you heard that right! I am at rehab-needing levels of thicker, stickles and flower addictions. BUT, I love it and while I know I have these issues, I am CHOOSING to ignore the need for help! I love how adding a little sparkle or a few flowers can turn a layout from bland to blamm-o-rific, and of course it only gets better when I can use one of my favorite letter stickers from American Crafts for my title!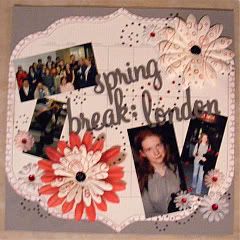 This layout has it all! I even altered paper flowers to match my LO because some how I was out of all red flowers except the one huge one? How does that happen, and WHY are there not red flowers available to buy at
my fav LSS Scrapville
at 11:30pm on a holiday? Seriously, I would have gone and bought them, IN MY PAJAMAS, because those ladies are super sweet and are ok with scrapping in comfort! So to alter the paper flowers I used my versamark cartridge in my stamp roller, rolled across the two paper flowers, quickly dusted them with firecracker red glittery EP, and heated 'em up. Snazzy! I love them! Then I wanted a bit of charcoal swirls so I inked up a different roller and rolled it over my fabric flowers. I took a Timmy-tool with the velcro pads and added some red ink to two of those, and edged my snow colored calendar paper lightly.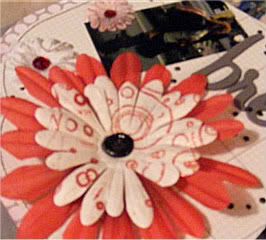 So, then I added rhinestones for the small flowers and a couple swirls, but here I was again.. out of something! I need stock in black rhinestones, I swear! So, I grabbed my Gunmetal stickles and went to town, making centers for the two big flowers and swirly-dotted lines.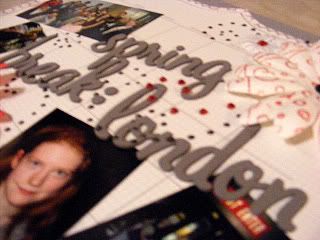 I love this LO and the red-head on it! That is my kiddo who headed to London with school for a spring break trip last year, and I wanted a LO I could frame that had a few shots from her heading out and a few more of her coming home... this one did the trick!