So here is another LO using a
Page Maps sketch
... and a BAZILLION flowers!! This one is one of my favorites and will be lighting up my home eventually in a brightly colored frame!
So, I used the
June 2006 sketch page
(second row down, right hand side)for this LO, and again some of Jillibean Soup's paper! I just love their paper, punch outs and spots! Oh, and in case you missed it, you will definitely see why I call myself a sticklethickerflowerholic!!!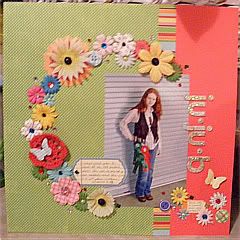 Those letters are Queen & Co. white letters (SUPER inexpensive version of a thicker!!) and I simply added lime stickles to them to get that look! I added a journaling spot and used the butterflies and buttons from the punch out page I got with my Jillibean Soup paper a few weeks ago!!!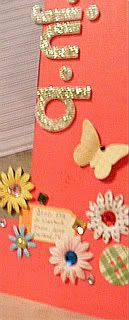 I also found the perfect addition to the LO by using a crocheted flower a friend sent me! I have been hoarding these for the perfect addition to special LO's!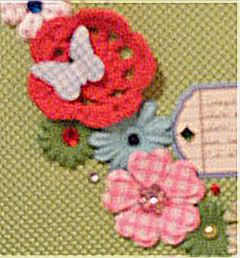 This is a pic of my girlie when she brought home ribbons from the livestock show for showing her bunnies back in the spring of 2010. I love how a portrait can be so fun in front of a cool door!