Over at the
Scrapbook Nook
, they are running a New Year's Crop over ten weeks. Two challenges each week. One Friday and one Saturday,
this one
is from the first week (since I just found the site the day this one ended). I decided to play along after the fact!
The details from the challenge are...
Supplies:
Cardstock 12*12 (edit!!: you may use any other size if you don't scrap 12*12)
3 different patterned papers a tag or journalling card.
Ribbon (edit: place where you like)
a chipboard embellishment (edit: place where you like)
a sticker
banners (ready made or you can make them yourself)
flowers
thickers / alphabet
border punch
pen for journalling
photo (no larger than 4''*3'')
Step 1: In patterned paper (pp) 1 cut out two small strips measuring 12''x 1/4'' and adhere to 2 of the four borders (you choose!!)
Step 2: In pp 2 cut out two other small strips measuring 12''x 1/4'' and adhere to 2 of the 4 borders (you choose!!)
Step 3: In pp 3 : cut out a rectangle measuring 5''x 3.5'', place on your cardstock (don't stick it down just yet).
Step 4: Add your journalling card / tag to the rectangle.
Step 5: Cut out 2 strips of pp (which ever you like) size: 3.5''*1'' (you can use your border punch on them!) and add them by slipping them underneath the rectangle. You can glue everything down now!
Step 6: Place your photo on the cluster element rectangle-journalling card/tag-border strips.
Step 7: Add your banners (I made three tiny ones)
Step 8: Add your sticker
Step 9: Add your flowers
Step 10: Add your title
The only additional things you may add are: journalling and mists/inks!
Have fun and can't wait to see what you create!
The same instructions get so many different results!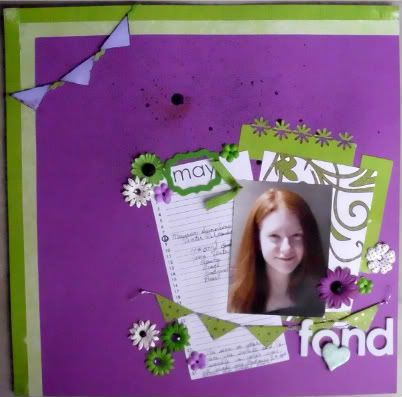 I will be posting other challenges from their crop as I catch up! I hope you'll join me along the way!
Challenge 1:
10 Steps
Challenge 2:
Top 10
Challenge 3:
Sweets for My Sweet
Challenge 4:
Scraplift Yourself
Challenge 5:
Journalling Your Resolutions
- OPEN until January 28th 12 noon PST!!!
Challenge 6:
Embellish It
OPEN until January 29th 12 noon PST!!!