I used to LOVE a site called Serendipity and participated in their online crops/challenges. Then... they closed down, which made me really sad. BUT, last weekend when I needed to kill some time and was wide awake at 3am, I came across two other sites that are awesome!
I joined My Scrapbook Nook and started participating in challenges for their New Year Crop. The first one I had time to get in, before the deadline was this adorable little tag. The details of the challenge are HERE, but the gist of it is...
Ten total products
embossing/stickles
1 die cut/punch
ribbon
2 pattern papers
all on a sweetheart tag
Here is mine: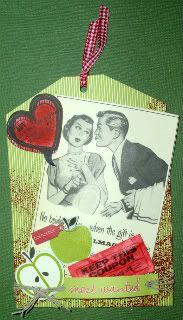 The little bubble reads:
"Luv, Doctor's say an apple a day.. but I just need you!"
I used October Afternoon's pp with ads for the couple advertisement and then a Jillibean Soup scrap of green stripe from their Summer line for the tag itself. I added die cut apple, some jute, a slide with most wanted, a ticket, a tiny tag that says "Hot, Hot, Hot", firecracker red embossing powder, a bubble to write on and ribbon.
I will post more from the New Year's Crop over the next few days.. I have a LO sitting in the approved stickles drying area as I type!