I spent my NYE putting the finishing touches on this album class I am teaching at
Scrapville
in January! I knew I was going to LIKE this, but it ended up being so cute I might just make a few to give a few friends who never seem to have the time to create and need to just plop in a few pics and make a few journals about the day.
This album will be perfect if we end up with some of the pretty snowfall that we got the past few years. Those are rare for Texas, but in the past two we have had at least one good storm and several inches all at once. I love Texas, but snow is just nor normal, now ice and nasty weather yes, but beautiful snow is nice to get!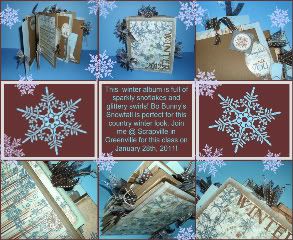 I picked up this
Bo Bunny Snowflake
line on one of my recent trips to
Scrapville
and have truly enjoyed using a handful of supplies to make this album! I love how some chocolate ink, light blue paint, a little copper embossing powder, some ribbon and a few sheets of paper can become such a gorgeous little treasure! Just think of the pics of the kids sledding or the dogs romping in the snow, and how you could make a few of these for the grands to enjoy the grand kids and brag about them!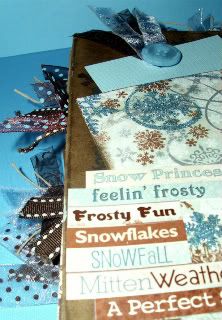 I am trying not to give it all away since it is a class, so shoot me a message or comment if you want more details!