The
Fall Frolic
is going on over at
CropStop
, and I am hoping those of you who haven't joined in (or are just lurking around) will hop on over and check out the challenges! There is a NEW challenge every day until the 22nd and if you like PRIZES (who doesn't, right?) you have until the 30th to load your projects in the
gallery
.
So as it happens, my challenge is due up today... and the first half of it is
here
. This blog picks up where that left off...
The second of my projects is below, and it is definitely one of my favorite techniques! I used the
Timmy Bingo Embossing folder
, copper embossing powder and
versamark
on blue cs. Using a
brayer
, inked up with the versamark, I rolled it over the EF on the side WITHOUT the Sizzix logo.(
THAT
part is important, if you want it to look like this!) Once you've run it through the 'press' (press= texture boutique or big shot or big kick or whatever you have, even a rolling pin will work in a pinch!)... Anyways, sprinkle on the embossing powder and HEAT... IT... UP! Now, you've JUST double embossed!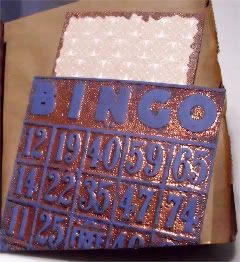 You may double emboss several ways like the CropStop team has done
here
, here...
(Thanks for such a fabulous example, Elisabeth!)
or
here
! Or if you liked the tree card you've seen on the previous post (and on the
challenge for today
), follow the process below...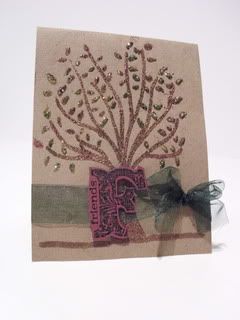 Using that handy brayer, inked with versamark (yes, again) roll it over the
Leafy Tree folder
on the side WITHOUT the logo (Crafts,Too folders are DIFFERENT than Timmy's, so be sure you are considering the side you'd like to heat emboss after using the folder. It can be a bit confusing, when in doubt do a practice run on scraps!)
Once your done 'pressing' it with the folder sprinkle on the embossing powder, and turn on the heat gun. When I was done with the heat embossing, I added a mix of
Sparkle N Sprinkle
's red, green & gold glitter by dabbing a bit of my fave liquid adhesive over the leaves on the tree then adding the glitter. This is very simple, and the photo does NOT do it justice!
I really hope you'll catch up with the Frolic... there are lots prizes at stake from the
CropStop Store
and a RAK from me if you follow the steps below! (BTW, if you follow along and hop around during the Frolic to the OTHER DT member blogs, you might find more RAKs waiting for you!)
1. Participate in at least 3 Challenges from the Fall Frolic (including loading them in the
gallery
by the 30th!
2. Follow my blog.
3. Send me (Lisanj_2003) a PM (no later than 10/1 10am CST)on the CropStop Board and include the link to ALL of your projects and your snail mail address.
Extra Credit!!!
IF
you choose to complete 5 projects you'll get 2 entries, 8 projects = 3 entries and 10 projects = 4 entries. (WOWZERS!!)
Once I have checked out the links and verified who is IN I will randomly assign a number to each entry, and using Random.org we'll end up with 3 winners! They will be announced in the CropStop forum on the 5th of October!