So when wondering around in scrap-video land the other day I came across a cool technique. They combined Utee with 3D fabric paint for a different look. So I decided to try it out in a few different combinations myself. Now, to get you there!
I grabbed some random raw chipboard from my stash and got to work. I grabbed my
Adirondak
acrylic paint dauber,
utee
, 3D fabric paint, and even some glimmer mist. Basically a few things that were wet to 'hold' the utee until it could be heated and set.
I took two pieces of my chipboard shapes and covered one completely with 3D fabric paint. I made polka dots on the other with the same 3D paint. (note: this purple chipboard was covered with a layer of colored paper, but not a shiny finished look.)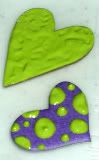 While STILL WET I covered with utee lightly.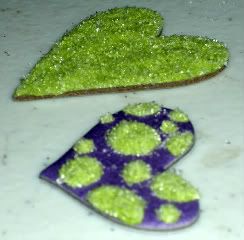 The second process...
I grabbed the paint dauber and covered another piece of chipboard generously with it. While it was still wet, I covered it in utee. Work quickly, that paint dries fast. I would suggest yo have your utee already open and your tray ready to go. I also just coated the edges of a piece of colored chipboard with paint and coated it with utee, as well!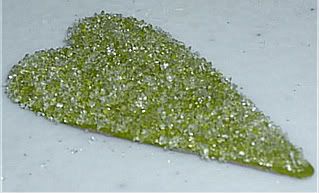 For a final test, I picked up the glimmer mist and working super-uber-fast I spritzed, moved it to my tray and sprinkled on the utee. I pressed down lightly on the pile of utee a bit to be sure some stuck!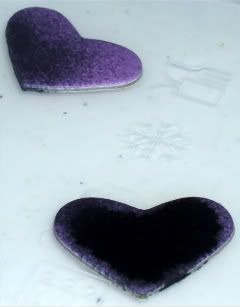 Then came the waiting... that 3D paint had to dry COMPLETELY before you can heat that utee up! So I set all the pieces aside and waited until I was back at my scrap table a few days later, though overnight would have probably done it. I had my set of chipboard ready to heat...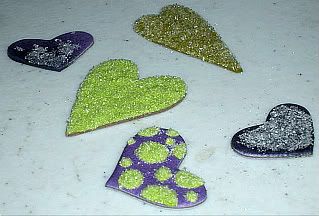 This is the final look. The polka dots are super shiny and the purple base color of the chipboard is a flat color which made for a super nice little combo. And the solid covered piece was shiny too, but not like the video I watched, which I can not seem to find again, sorry.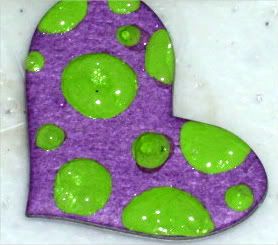 The glimmer mist did not work, but the paint dauber DID and turned out more like the video!
I loved the 'raindrop' look of the utee on the flat finish of the paint! AND it didn't take overnight to dry, just about ten minutes!!! So here were my three favorites.. One polka dot with 3D paint, one fully coated in paint from the dauber and one edged with the dauber.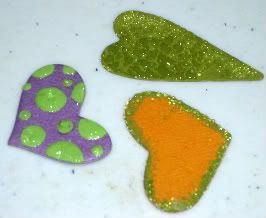 If you live in the
Scrapville
area, and want a hands on with the dauber/utee process come see me at the
Make 'n Take
day the 17th of September. There will be lots of things to do! Come hang out on
facebook with Scrapville
as well to hear about all the weekly specials and new arrivals!